On Kamala Harris
An analysis of Joe Biden's historic vice-presidential nominee.
Kamala Devi Harris was born on October 20, 1964, in Oakland, California, to Donald and Shyamala Harris. Donald was a Jamaican-American economist and professor at Stanford University, and Shyamala was a Tamil Indian American cancer researcher and civil rights activist. Kamala graduated from Howard University with degrees in political science and economics and from the University of California law school.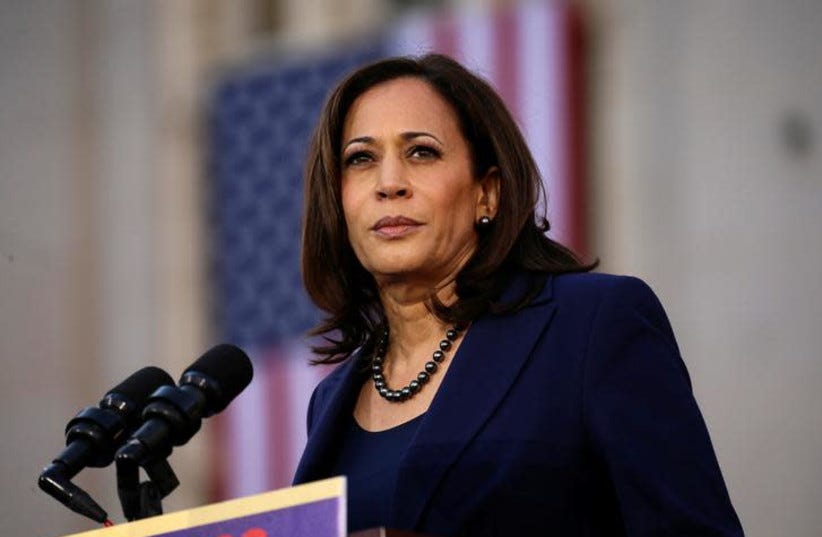 She began her career working at the Alameda County District Attorney's office. She then served two terms as San Francisco District Attorney starting in 2003 and was elected thereafter as California's Attorney General. In 2016, Kamala was elected as a junior California Senator, where she served until recently being chosen as a vice-presidential candidate.
As a biracial African-American and South Asian-American woman, Senator Harris has broken many color and gender barriers in American politics. She was the first African-American and female California Attorney General, and she was also the second African-American female and first South Asian-American to serve in the United States Senate. As a potential vice president, Kamala would be the first woman and first person of color as vice president.
Although Joe Biden is somewhat of a moderate Democrat, he would be the most progressive president in history if elected in November. Kamala Harris has been leaning toward the far-left, even as a former presidential candidate in months prior. She promotes an opt-in Medicare for All plan that offered taxes on stock trades and overseas corporate income to supply the financials needed. On immigration, she opposes many restrictions proposed by President Trump, such as the border wall and deportation threats. She is a prominent supporter of Planned Parenthood and pro-choice abortion options. Harris strongly advocates for gun control, such bans on as assault weapons and high-capacity magazines. As a presidential nominee, she promises to use executive orders to pass gun control legislation if Congress failed to act. She is a loud voice on climate change as a supporter of the famous Green New Deal, and she also proposed a $10 trillion plan to create a carbon-neutral economy as a presidential candidate. Lastly, Harris is a believer in a $15 living wage, even from her start as a US Senator.
These policies are considered far-left, rather than a more moderate belief set; therefore, Joe Biden has chosen Kamala knowing she is a member of the far-left in an attempt to draw unity from the entire Democratic party. Even after Harris condemned Biden's racial track record on the Democrat debate stage and sparked disagreements between the two, he felt her work would be valuable to his election effort. This choice for a vice president pulls the Biden campaign further left, but possibly too far. Although a vice-presidential pick normally does not have a drastic effect on the election, the 2020 presidential election is the kind of race to nickel-and-dime for votes. Harris will win back some of the black vote Biden lost from his now infamous "you ain't black" gaffe. The far-left, such as Bernie Sanders' supporters, will be more inclined to vote for this Democrat ticket, although many of those supporters are still opposed to a candidate this moderate from their side. Independents might possibly oppose such a progressive ticket, as a more moderate candidate would gain their support. Biden is appealing to his Democrat base rather than independents and former Republicans with this choice, which is a strategy that could potentially fail come election time. Because Biden has limited his recent public appearances, Harris will play a major role in being a bold and strong spokeswoman for this campaign, as she had already been an outspoken senator and politician before being picked for the vice-presidential nomination. She is the fighter that Joe Biden needs to push his campaign forward, and she is a high-risk, high-reward pick for vice president.
---
Keaton Browder is our elections correspondent and a freshman at Liberty University.