"Election Excitement" by Donald Trump and Joe Biden, feat. Kanye West
A recap of the last two weeks of the 2020 presidential election.
Trump Redirects His Campaign
After a major slide in recent national polls and a growing sense that he may lose the upcoming election, Donald Trump redirected his campaign strategy by demoting campaign manager Brad Parscale to a senior advisor for data and digital operations. Parscale, who was an integral part of Trump's 2016 win, used social media and online advertising in a revolutionary way to help Trump's election. Unfortunately for Parscale, Trump's patience ended after weeks of slipping poll numbers and falling support. The President promoted Bill Stepien as his new campaign manager, who had previously served as the former deputy campaign manager before the new promotion. Trump also redirected his view on COVID-19, calling wearing a mask "patriotic." He also canceled the in-person Republican National Convention set to be held in Jacksonville, Florida, after a surge in regional coronavirus cases. The redirection of President Trump's campaign will deeply affect the path the election will take, considering the quickly coming election day.
---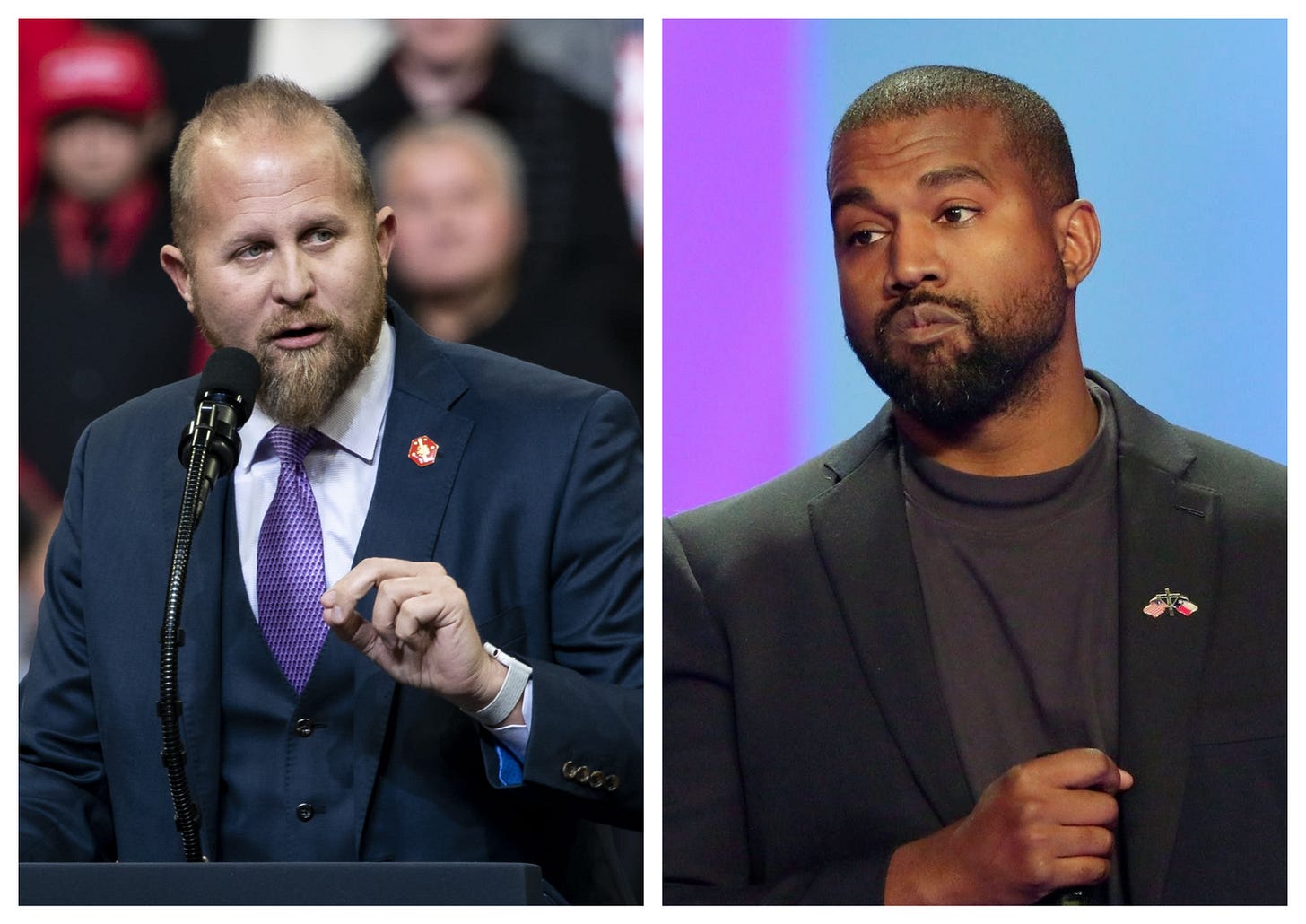 Al Drago | Bloomberg | Getty Images Michael Wyke | AP | Shutterstock
---
Kanye West's Birthday Party
Rapper Kanye West, after announcing his presidential campaign over Twitter and then claiming that he was dropping out while reversing his official Federal Election Commission registration, held his first rally in Charleston, South Carolina, last week. Microphone-less, wearing a bullet-proof vest for security, and with "2020" shaved into his head, Kanye held an actual rally for a few hundred people. His speech consisted of a forty-five-minute ramble about incorrect Harriet Tubman facts, abortion, and some off-the-wall policies. Kanye announced that he will be running on the platform of his new party, the "Birthday Party" (BDP). If his campaign is to have any real effect on the election results, he will likely steal a small portion of the black vote from Joe Biden, who has not done much to excite the black community. It seems like we may not even know if Kanye can even receive a significant portion of votes from any voting coalition to have a greater effect on the election than the average third-party candidate. A since-deleted rambling and incoherent rant on Twitter a few days after the rally points to a possible mental health issue in Kanye's life, which does not make a valid and stable campaign leader. It sounds crazy, but Kanye West is running for president — welcome to 2020!
---
Biden's Veep Coming Soon
Joe Biden announced that his campaign is in the closing stages of announcing his vice-presidential selection, as he is receiving briefings from lawyers and instigating background checks on the top candidates. Biden is quoted as saying, "I want to make sure I have somebody…capable of being President of the United States if something happens." He also noted that his goal is to announce his pick either on August 1st or soon after, which is a fast-approaching date. Notable and realistic options for the vice-presidency include Senator Kamala Harris from California (my personal prediction), Senator Elizabeth Warren from Massachusetts, former ambassador to the UN and national security advisor Susan Rice, Senator Tammy Duckworth from Illinois, and Mayor Keisha Lance Bottoms of Atlanta, Georgia. Each of these candidates has her own advantages, and the pick will point out a path for Biden's future campaign strategy to utilize the strengths of their choice. In the long game, Biden's vice-presidential pick will hardly influence the national election, as many other aspects of this specific election are more important to independent voters than the vice president on the Democratic ticket.
---
Trump Cashes In
Trump raised a whopping twenty million dollars at his latest virtual fundraiser, almost double that of what the 2008 tag team of Obama and Biden raised at their own recent virtual fundraiser, where they raised eleven million dollars. Biden's campaign plans to hold another fundraiser in the future with former President Barack Obama. The recent haul proves Trump still has a prominent virtual base and fundraising power after Democrats outraised Trump the previous two months. The recent controversy over money intended for Black Lives Matter being given to Democrat campaigns will have a strong effect on the outlook of fundraising for both campaigns given the recent surge in the BLM movement. Although Democrats have raised massive amounts of money recently for the upcoming election to help key Senate races and Biden, the Democrats must capitalize on the influx of cash and win big in 2020 in order to have a chance at future fundraising victories.
---
Keaton Browder is an incoming freshman at Liberty University.