All Eyes on Biden
Another recap of the last two weeks of the race for the presidency.
Democrats battle over Biden debating
The upcoming 2020 presidential debates, which are quite possibly the most important events in deciding this election, are fast approaching. In recent days, many in the Democratic Party have argued whether to debate President Trump or not. Former 2020 Democratic presidential candidate Andrew Yang appeared on CNN to discuss Joe Biden's path to the debates, saying, "I think Joe Biden is licking his chops to debate Donald Trump." Others disagree with Yang's opinion, as the writers of several New York Times opinion articles pleaded with Biden to scrap the debates. The only opinion that truly matters in this scenario is the thoughts of the former vice president himself, who has been quoted as saying, "I can hardly wait [to debate Donald Trump]." As much as concerned Democrats beg, the debates are happening, and they will be a showdown resulting in many gaffes and insults. The first debate will be held at Case Western Reserve University in Cleveland, Ohio, on September 29, and it will be a defining moment in the final stretch of this pivotal election.
---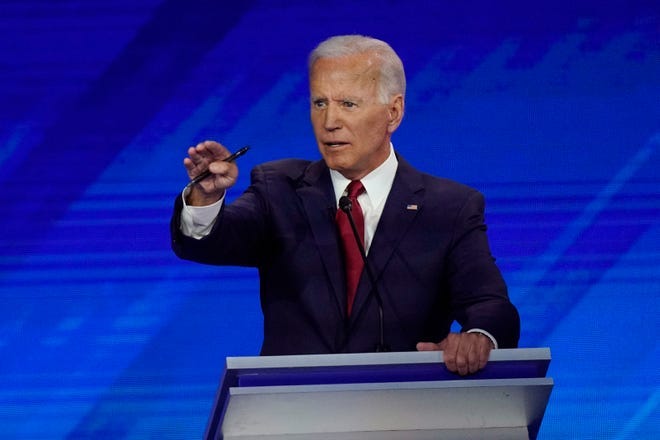 David J. Phillip, AP
---
Biden's vice-presidential indecision
This past week, the Biden campaign was expected to announce his vice-presidential nominee who will accompany him on the ticket and define much of his campaign's direction. Unfortunately for the former Vice President, he has stalled his decision. Biden and his advisors are reportedly closing in on their candidate, but the question still lingers over the head of some anxious Democrats. In the final days leading up to the decision, two dark-horse candidates, former UN Ambassador Susan Rice and US Rep. Karen Bass (D-CA), have grown into stronger favor on Biden's interest ranking, while California Senator Kamala Harris remains steadily in the lead. Biden was even accidentally photographed with a notepad of key traits about Harris last week, revealing that she is indeed a serious option for the ticket. Harris is still my prediction for the vice-presidential pick. This stall by the Biden campaign shows a concerning lack of direction and decisiveness, as his campaign struggles with balancing the direction that his vice-presidential pick will take not only the presidency, but also the future of the Democratic party.
---
Trump flips on mail-in voting
Along with practically the entire Republican party, Donald Trump has opposed mail-in voting for the upcoming election, claiming that this form of voting "cheats" and is "very dangerous." Recently, the president posted a contrasting message on social media that claimed mail-in voting in Florida is "safe and secure."
This turn by the Trump campaign, possibly led by recently appointed campaign manager Bill Stepien, who has made some clear changes to the direction of the campaign, shows an appeal by the president's campaign to have a feeling of normality of voting in the final moments before the election.
---
Foreign influences pick sides
American intelligence officials disclosed information that Russia has been attempting to interfere in the presidential election in favor of Donald Trump, while China has shown favor toward a victory for Joe Biden. Russia has worked more actively to manipulate the election, while China is still unsure how much meddling they will commit, although they would still support Joe Biden through currently unknown means. Trump has been a thorn in the side of China throughout his presidency through trade wars, various insults, and attempts to ban Tik Tok, so he obviously will not gain their endorsement. Russia, on the other hand, possibly favors President Trump because Russian collusion has put American politics into a tight knot of conflict, and the President's tough actions on Russia's enemies have helped President Putin gain somewhat of an upper hand on international foreign policy. Foreign meddling should be an unwelcome force in the upcoming election, where voter fraud and corruption are already growing concerns; therefore, foreign interference is a serious threat to our democratic elections, especially in this specific election, as it has the potential to have a very controversial and close outcome.
Read on: Statement by NCSC Director William Evanina
---
West-Tidball 2020
Rapper and Birthday Party candidate Kanye West recently announced his vice-presidential nominee to be spiritual coach and Christian speaker Michelle Tidball. Tidball was a mental health therapist for ten years before becoming a religious speaker and executive director of Bright Futures Mentoring Program, a student program for those in need of mentoring. Her religious background provides West with a spiritual direction for his campaign, as Kanye's recent change to Christianity has taken the forefront of his music and now political career. Tidball's addition to the ticket somewhat defines the indefinable campaign of West, which will be an interesting sideshow of the 2020 election. The West-Tidball ticket will most likely fail and will influence the election no more than any typical third party candidate.
---
Keaton Browder is our election correspondent and a freshman at Liberty University.